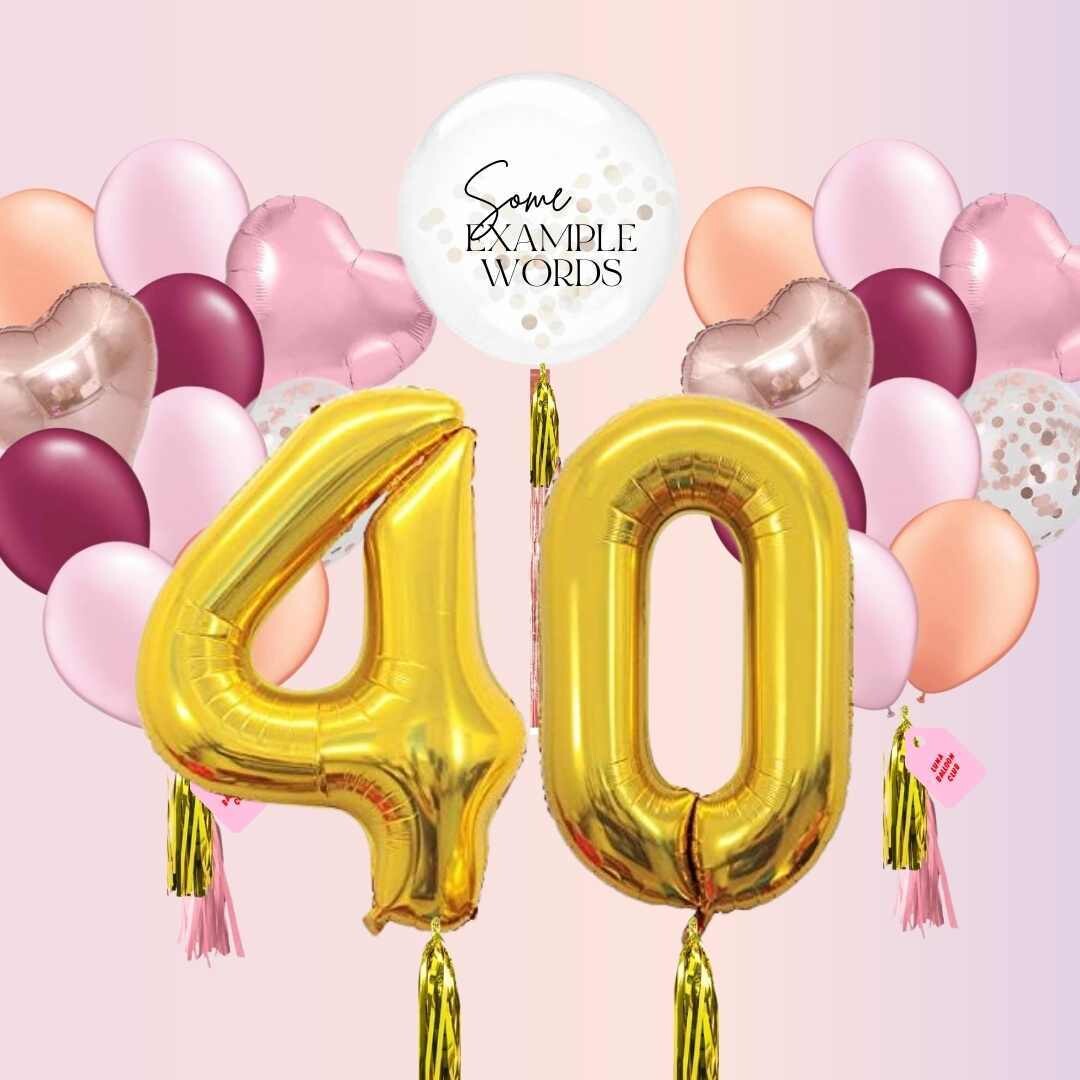 Number Balloons + Bubble + Double Mixed Bunch Set (Free Delivery in most areas)
SKU 00108
Product Details
The Product

This set comes with 2x number balloons, 1x Customised Bubble Balloon & 2x Large Mixed Bunch. A large mixed bunch consists of 10 foil, confetti and/or latex balloons of your colour choice. When inflated the Number Balloons are 97cm - 102cm.
Text on Bubble Balloon will be in black.
Inclusions

All balloons come inflated. We include a balloon weight and decorative fringe on all bunches. High float (a gel that maximises float time) is also included free of charge in all standard latex and confetti balloons for maximum float time.
Customisations
Customise the words and colours of your confetti bubble.
Add additional balloon bunches according to the size of your event.
Let us know what colour theme your event in the custom colour preference box and we will customise your bunches to that colour. You can leave it blank and leave it up to us or tell us about the preferences recipient and (e.g. she hates pink!) we will work around that!
Colour of text will be matched to the colour scheme. If you have a special request for colour please let us know. However, we only have guaranteed stock of white, black, dark blue, yellow, red and pink. If requested colour is not in stock we will automatically pick from the guaranteed stock that is most suitable.

If you have other customisations such as foil shape requests or specific needs (e.g. the event space doesn't allow confetti balloons). Please include that in the custom colour preference.
Balloons may not be exact to picture as they will be customised to your preference.
Delivery Locations

Check our Delivery Areas page in the menu to see if your location is in our delivery areas.

Delivery Timing

Your deliveries will enter a delivery schedule for that day between 10:30 am and 5:30pm. If you have a specific time or deadline that your order needs to be delivered by, please confirm with us through phone or email.
.
Delivery Instructions

You will have the option to select pick up or delivery date and time during checkout.


Please see our *Delivery & Pick Up Protocol and *Delivery & Pick Up Terms & Conditions to understand our protocol when recipients are not home. Please note delivery charge will not be refunded if recipients are not home. Please factor in your purchase decisions that balloons that are left at location are subject to wind, heat and sunlight which may affect the balloons. In certain circumstances where the courier has deemed bunch "unsafe to leave" our couriers will bring back the balloons for pick up in our West Perth Studio.
Save this product for later